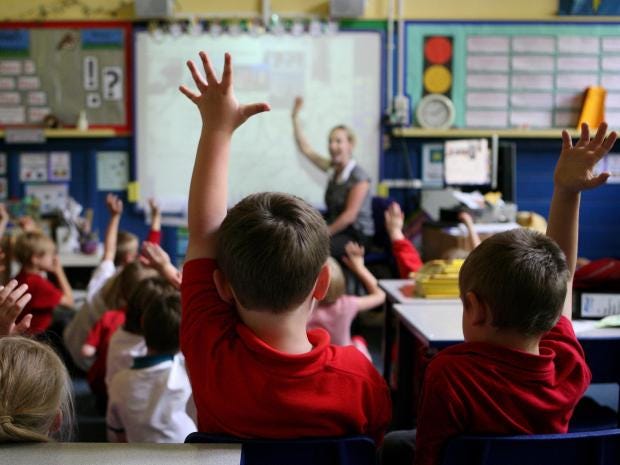 Labour's plans would mean an increase in school spending per pupil by 6 per cent compared with present levels, and Liberal Democrat plans would protect spending per pupil in real terms at the 2017-18 level PA
School spending plans outlined in the Conservative Party manifesto could see school budgets slashed by 7 per cent, a leading economic think tank has warned.
The party has committed to increase the overall schools budget by £4bn by 2022, but schools can expect to experience a huge deficit once inflation and student growth numbers are accounted for, the Institute for Fiscal Studies said.
In a new paper analysing each of the main political parties' proposals for education spending, the IFS calculated a fall in school spending of almost 3 per cent per pupil between now and the 2021-22 academic year.
This makes for a total cut of 7 per cent between 2015-16 and 2021-22.
Labour's plans would mean an increase in school spending per pupil by 6 per cent compared with present levels, and Liberal Democrat plans would protect spending per pupil in real terms at the 2017-18 level.
In a separate paper published at the same time, the Education Policy Institute (EPI) provided a scathing review of the main parties' manifesto pledges.
Despite the Prime Minister's promises that "no schools would lose funding" under the new National Funding Formula, the real terms cuts to per-pupil funding would bring budgets to below 2015-16 levels, the research institute concluded.
Regardless, its authors added, there had been "no indication given" of how these savings would be made, and no clear estimate of how much some new policies would cost.
The concerns come amid confusion over Theresa May's free school breakfasts pledge, which was ridiculed after experts calculated that meals would have to be costed at below 7p per pupil in order for the funds to meet.
In their election manifestos published last week, all three of the main political parties have pledged to address education funding, with each setting out a different method which it says will increase money for schools.
The strong political focus on education funding comes amid continued concerns from school leaders, teachers and parents about a growing squeeze on school budgets.
Earlier this week, Michael Gove's former right hand man criticised political leaders from all parties for having "abandoned" disadvantaged pupils and allowing devastating shortages in schools.
Sam Freedman, who was senior policy advisor to Mr Gove during his tenure as Education Secretary, said he was left feeling "angry" after visiting schools where teachers had been forced to buy food parcels for classes out of their own pocket to stop them from going hungry.
His comments follow Theresa May's manifesto pledge to scrap universal free school meals for infants in favour of the breakfast scheme.
Commenting on Friday's analyses, Angela Rayner, Labour's Shadow Education Secretary, said: "There is now no doubt about what Tory plans mean for education – our schools will see their budgets cut.
"And head teachers have warned us what the consequences will be for parents and pupils: fewer teachers, larger classes, a narrower curriculum, or even a shorter school week.
"The IFS analysis is clear – only Labour will give schools the resources they need to deliver a world-class education for the many, not just the few."
Examining both the policies likely to have a positive impact and areas of concern in the major manifestos, the EPI provided plentiful criticism for all three parties, however.
"The huge proposed cost of abolishing tuition fees – Labour's largest manifesto pledge – badly targets some of the country's most significant educational challenges," the report's authors said.
While the EPI acknowledges that "some planned steps" have been proposed by Labour to raise the quality of early years education, they argue there is "no clear strategy to improve capacity in the early years to deliver an expensive increase in provision".
The move could therefore only deliver "modest impacts" on attainment. Similarly, the party's pledge to enforce infant class sizes at 30 or fewer could either result in "significant capital costs" or compromise on parent choice, without any clear benefits for school performance.
Writing a commentary on the manifesto for The Independent, Jon Andrews, Deputy Head of Research at the EPI said all parties have much more to do if their policies are to deliver beyond the General Election.
"EPI research would suggest that parties need to pay more attention to targeting scarce resources where big impacts can be made, and should base structural reforms of the school system on evidence and not hunch," he said.
"We also need as a nation to invest more thought in how to recruit, retain and develop high quality teachers and school leaders. The party manifestos generally have much less to say in this important area."
Citing the Government's controversial grammar schools expansion plan as a sore point, Mr Andrews added: "A problem with Conservative thinking is that it fails to recognise that these "high performing" institutions are also selective in some way – their results are generally inflated by their ability to explicitly or implicitly select pupils from richer families or with higher existing performance.
"Just because many universities or private schools have generally good results does not prove that they are well qualified to turn around some of the under-performing schools in very challenging neighbourhoods."
Luke Sibieta, an Associate Director at IFS, said: "The commitments made by each of the main parties would imply quite different paths for school spending in the next parliament.
"Labour would increase spending per pupil by around 6 per cent after inflation over the course of the parliament, taking it to just above its previous historic high in 2015.
"Proposals from the Conservatives would lead to a near 3 per cent real terms fall in spending per pupil over the parliament, taking it back to its level in 2010."
["Source-ndtv"]