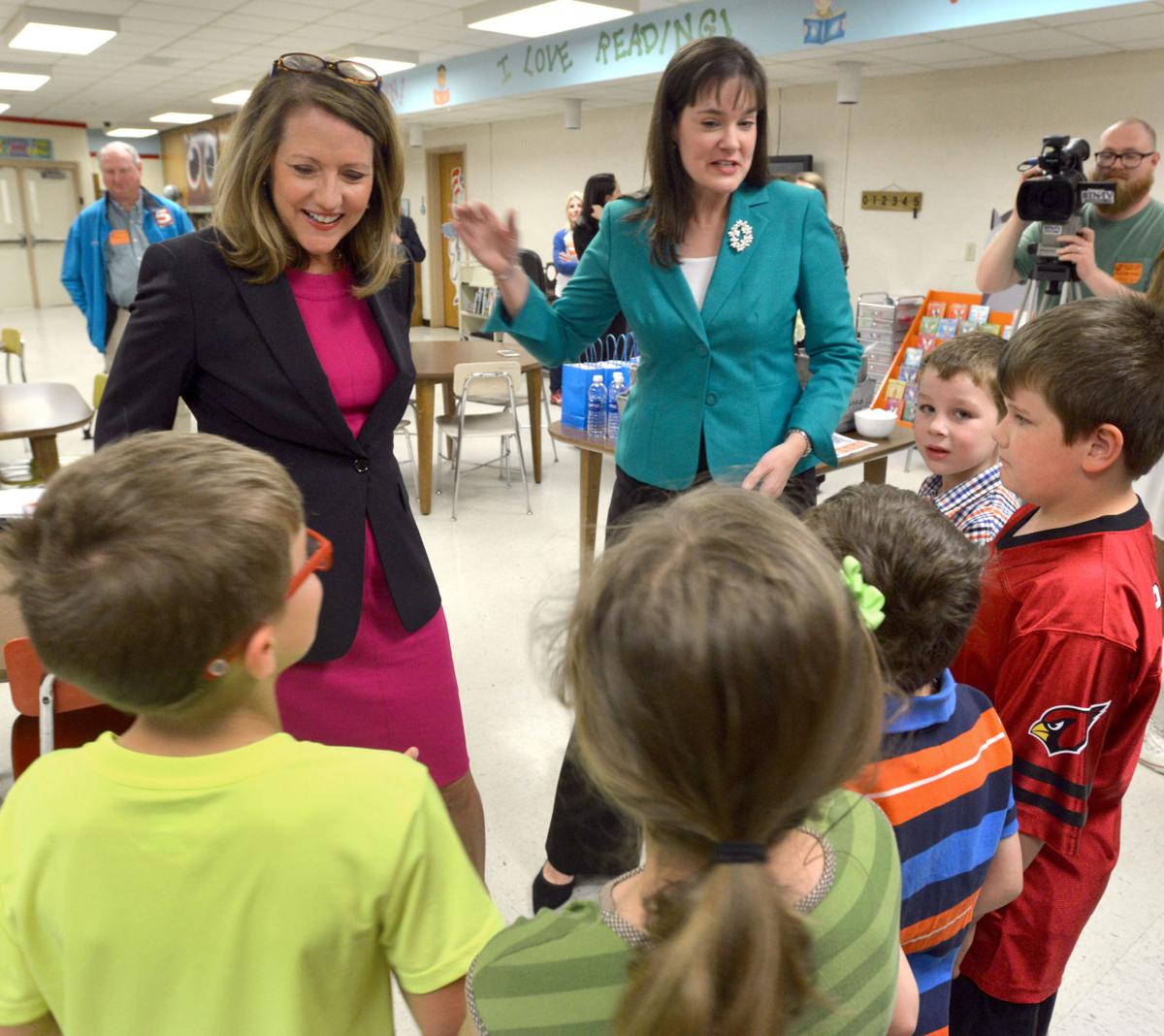 BRISTOL, Tenn. — Michelle Poole's kindergarten students at Holston View Elementary were so enthralled Tuesday while she read "Charlie the Caterpillar," they didn't notice when Tennessee first lady Crissy Haslam and Education Commissioner Candice McQueen walked in.
McQueen said Poole did a great job of bringing the story to life.
"I was impressed by the way Ms. Poole captured her students' attention," McQueen said. "They were able to answer questions about the story, which shows how engaged they were. That is so important at a young age."
Haslam and McQueen visited the Bristol, Tennessee, school as part of their Classroom Chronicles Tour. McQueen started the tours during the 2015-16 school year when she met with more than 10,000 teachers in 121 schools across the state to find out what students' perspectives and experiences were in middle and high school.
This year, the tours were revamped to focus on Tennessee's Read to be Ready initiative. The initiative was created when test scores revealed that 43 percent of third-grade students in the state couldn't read at grade level. And fewer than 50 percent of students in grades three through eight could read at proficient levels.
The goal of the Read to be Ready program is to get 75 percent of all third-graders proficient in reading by 2025.
The women visited four local classrooms, including Rachel Boggs' first-grade shared reading class. Shared reading is part of the initiative and involves students in vocabulary and peer discussion. It also requires students to write clearly about what they've read.
Haslam said it's important for students to be able to reiterate what they've studied.
"It shows that they really comprehend what they have read," she said. "For them to be able to do that before they reach the third grade puts them at an advantage when they get into higher grades."
Cheryl Littleton's second-grade class was next. Her students had to recite and analyze the lyrics of "The Star Spangled Banner" for social studies.
"The program challenges the students," she said. "And, when they [students] are challenged, they do better at school and life. Reading is key for them to succeed, and this program works."
She added that it was an honor to have Haslam and McQueen in her classroom.
"As an educator, it's important to me to know that our first lady and the commissioner of education care enough to visit our schools," she said.
The pair also visited a special education class, where students were challenged to think above their grade levels by learning new words and answering multiple choice questions.
McQueen said it's important for all children to be involved in the reading program.
"Whenever a child is encouraged to read and explore, it opens their world," she said. "It's great to see the program in action."
After the tour, Haslam and McQueen met with a few students, educators and administrators in the school's library for questions and answers.
Sixth-grader Paige Helms said she was a little nervous.
"Mrs. Haslam and Ms. McQueen are important people," she said. "I'm glad that reading is important to them because we have to read in everything we do."
Holston View Elementary Principal Kristie Coleman said the school implemented the program about a year ago.
"We were already doing a lot of what the program requires," Coleman said. "But incorporating some of what the program offers helped us take our program to the next level."
Director of Schools Gary Lilly told McQueen he's excited to be involved in the Read to be Ready program.
"We're all in," Lilly said. "Reading is important at all grades, and to be involved in a program that engages students at a young age is exciting."
[Source:-.heraldcourier]