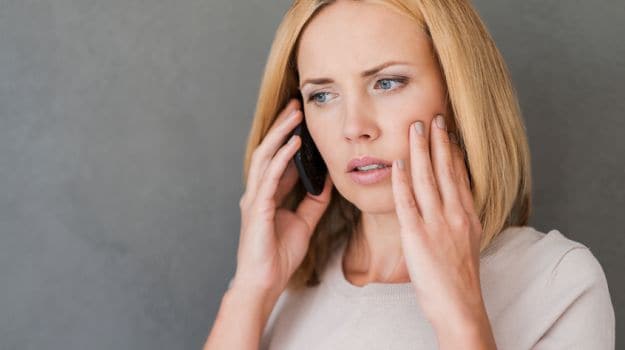 PhotoCredit:istock
Excessive use of electronic gadgets, including mobile phones and tablets, can cause "tech neck" that leads to early signs of ageing, health experts have warned.
According to experts, "tech neck", which leads to sagging skin, dropping jowls, and creases above the clavicle, seriously affects facial looks of the person by causing frown lines, undereye bags, and horizontal lines on the neck along with fat prominences. "People who bend down constantly for long hours while using any handheld electronic device, like smartphones, tablet or computers, are more likely to get wrinkles. The bending position while texting on mobile phones can cause neck, back and shoulder pain, apart from headache, numbness, tingling in the upper limb and pain in hands, arm, elbows and wrists," said Vinod Vij, Cosmetic Surgeon, at Mumbai-based Fortis Hospital.
A recent report by the Internet and Mobile Association of India (IAMAI) had revealed that the number of mobile internet users in the country was expected to reach 371 million by June 2016. As much as 40 per cent of the users consist of youngsters between the age group of 19-30.
Experts have said that the frequent forward flexion causes changes in the cervical spine, curve, supporting ligaments, tendons and musculature, as well as the bony segments, commonly causing postural change. Mohan Thomas, Senior Cosmetic Surgeon, Cosmetic Surgery Institute, said: "As people do not realise the negativity they are causing to their neck bone and the skin, tech obsessed people should take necessary steps to avoid the overuse of the electronic gadgets." He said the overuse of smart phones causes shortening of the neck muscles.
"Apart from shortening of the neck muscle it also increases the gravitational pull on the skin. Ultimately, this results in sagging skin, double chin, marionette lines (vertical lines from lips to chin) and loose jowls (drooping jawline). All these signs have been collectively labelled medically as "smartphone face," he said.
(This story has not been edited by NDTV staff and is auto-generated from a syndicated feed.)
Other Link(s):
Signs of Ageing Start Appearing in Mid-20s: Study
The World's Fastest Ageing Nation this Decade
5 Foods That Can Help Slow Down the Ageing Process
5 Easy Anti Aging Tips: It's More than Just Wrinkles
Healthy Diet, Walnuts May Help Fight Ageing Effects
High-Fat Diets May Delay Brain Ageing
A New Drug That May Block Skin Ageing
The Secret to Youthful Glowing Skin: How to Age Gracefully
Western Diet Linked to Lower Chances of Ideal Ageing
Low-Calorie Diets May Delay Ageing
For the latest food news, health tips and recipes, like us on Facebook or follow us onTwitter.