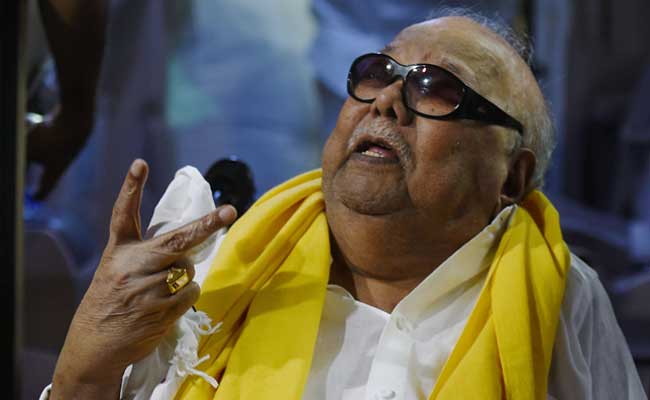 DMK chief Karunanidhi had the day gone by charged the NDA government with being obstinate in "thrusting" Sanskrit. (document picture)
CHENNAI: BJP today hit out at DMK chief M Karunanidhi for his criticism of the Centre's pass toinstallation a board for Vedic education, and accused him of doing politics in the call of language.
"Kalaignar (Karunanidhi) has criticised the critical government with the intention of over again doing politicsin the name of language," BJP kingdom President Tamilisai Sounderrajan stated.
She alleged Mr Karunanidhi, acknowledged for his strong pro-Tamil stand and selling it, had surely"unnoticed" divine Tamil and requested if it wasn't a "betrayal" to the Tamil people.
"are you able to deny that your birthday party posters in Hindi had been pasted in regions ruled via North Indians (all through polls)? are you able to deny that is brazen opportunism?" she said in a statement.
Ms Sounderrajan questioned Mr Karunanidhi, whose birthday party had efficaciously spearheaded the anti-Hindi agitation inside the kingdom in Sixties, as to what he had achieved for Tamil, and requested if he may want to as a minimum control to make the language the medium of guidance in colleges in Tamil Nadu.
"but if the Centre is taking steps for promoting Indian tradition, he's ranting," she said.
On his comments that the Centre were "ignoring" DMK's request for 50 years to claim all 22 Indian languages, listed inside the eight time table of the constitution, as respectable languages of the Uniongovernment, she pointed out that in this era his birthday party was a key constituent of the numerouscentral governments.
The Union HRD Ministry's move (on Vedic schooling) was most effective geared toward the students of CBSE, and that too (to take as) an non-obligatory one, she said, adding "nobody is being forced" to take in Sanskrit.
The government's goal and responsibility turned into to make destiny technology comprehend thevalue of our way of life and there was no imposition of whatever, Ms Sounderrrajan said.
"It is incorrect to peer an imposition of a language or language politics," she stated.
Commenting on the 'Ved Vidya' thought, Mr Karunanidhi had the day gone by charged the NDAauthorities with being obstinate in "thrusting" Sanskrit, saying such "linguistic, cultural chauvinism" mightderail the nation from the growth route.