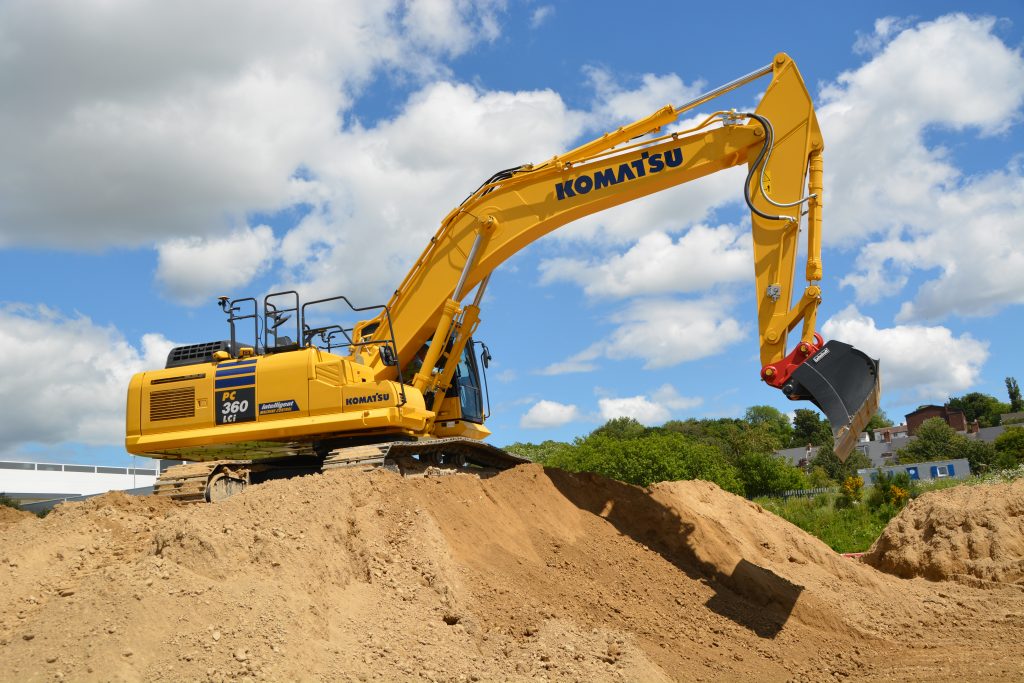 Komatsu's latest excavator entry into the market comes from the iMC 2.0 platform that spits 165HP with its all new powerful engine and labeled as the PC210LCi-11. This excavator is a class above the rest says the regional sales director of Komatsu Asia who also indicated that the new excavator is a contractor's solution for a versatile machine. Komatsu proudly unveiled the smallest excavator in its arsenal that sports a machine control system.
The entire system has been design to reduce the skill gap that are being currently being observed between experienced operators and new operators which is critical towards improving bottom lines for construction companies. Acquiring skilled excavator operators according to project managers is an uphill task which was the driving factor behind the intelligent Machine Control (iMC). The iMC is a component of Komatsu's suite of Intelligent Construction products which fuses digital and machine technology to arrive better solutions for construction project related issues.
Weighing an approximate 24,000 kg the intelligent excavator is capable of digging precisely and the system keeps the issue of over excavating at a minimal. Operators (even those with lesser experience will be able to excavate straight to grade not just accurately but also quickly.
On a separate account, in response to Komatsu's PC210LCi-11, Kubota's responded with their U55-5 compact excavator hire machinery which maintains Kubota's commitment towards meeting the needs of contractors who have to contend with tight spaces. The reduced tail swing of the new excavator allows operators to maneuver in exceedingly tight spaces rather easily. Senior sales rep for Komatsu Asia added that the U55-5 is offered in two versions (canopy or cab models) hooked up to a 48 HP engine.
The digging depth of the new U55-5 is almost 12 and is capable of a dump height of slightly over 13 feet. The operator's cabin has been redesigned with an adjustable seat and more leg room. Operational information is available from a LCD screen (colour) which is also connected to a rear-view camera (optional feature). The new excavator also boasts a keyless ignition system and customized control for 10 different users.
Manufacturers such as Komatsu, Caterpillar, Kobelco and Kubota excavators are rapidly developing new types that feature the latest technological advancements in order to remain relevant to the construction industry. Companies such as Hitachi are moving towards clean energy machines which are expected to command heavy machine markets within the next decade.
The CEO of Caterpillar quoted that the entire industry is paying serious attention to the development of electric powered excavators and thus far R & D factions of most manufacturers have come a long way with many releasing mini electric excavators and they are getting bigger blow by blow. Electric machines are not just cleaner and quieter, but they are also more efficient and suffer from lesser breakdowns compared to hydraulic systems due to wear and tear.
Manufacturers are almost there with the bigger machines and it is only a matter of time before these machines become common at construction sites.