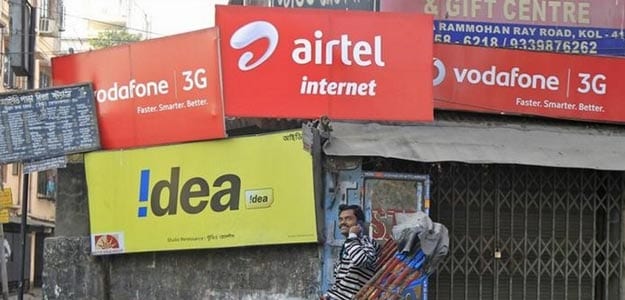 Shares of mobile operators fell sharply on Friday, following the Congress party's allegation about a staggering Rs 45,000-crore telecom scam.
Congress spokesperson Randeep Surjewala on Thursday alleged that the government is "surreptitiously taking steps to protect the interests of six leading telecom companies by helping them avoid the payment of charges rightfully owed to the government."
The telecom companies named by Mr Surjewala are Bharti Airtel, Vodafone, Reliance, Idea, Tata and Aircel.
According to the Mr Surjewala, the government auditor CAG initiated an audit of the six telecom companies (for 2006-07 to 2009-10 period) at the instructions of the previous UPA government. The audit was carried out to look into alleged underreporting of income and non-uniform method of accounting adopted by various telecom companies.
In its report submitted this year, the CAG found an alleged understatement/underreporting of income by the six companies of Rs.46,045.75 crore in the four years, the Congress said.
"Resultantly, the CAG found that there was an amount of Rs 12,488.93 crore, which remains un-recovered by the government. This does not include penalty, if any, and other relevant taxes," Mr Surjewala said.
The ruling BJP refuted the charges, with former Telecom Minister Ravi Shankar Prasad terming them as "utterly bogus".
"Congress needs to understand that there is no underreporting case under the NDA government. It is a case of sin of the Congress-led UPA government," Mr Prasad said, insisting that the government will recover all the dues with penalty from these telecom firms.
Meanwhile, Press Trust of India reported that the Department of Telecom (DoT) will soon issue a demand notice of over Rs 12,500 crore to six telecom operators, who were found by the government auditor to have under-reported revenues to the tune of Rs 46,000 crore between 2006 and 2010.
"The DoT is in the process to issue demand notice of over Rs 12,500 crore to six telecom operators – RCom, Tata Tele, Vodafone, Airtel, Idea and Aircel – which the CAG has found to have under-reported revenues during the UPA regime," a telecom ministry official told PTI.
Reacting to the developments, Idea Cellular shares closed 2.86 per cent lower at Rs 101.90, while Bharti Airtel shares declined 2.3 per cent to end at Rs 355. Reliance Communications shares closed 3.15 per cent lower at Rs 50.80, while Tata Teleservices fell 3.75 per cent to end at Rs 6.93. All these stocks underperformed the broader Sensex, which ended 0.3 per cent lower.
(With inputs from PTI)