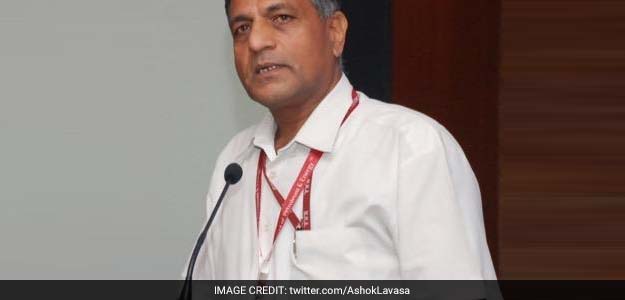 New Delhi
: The government has eliminated 1.6 crore duplicate and bogus ration cards that will it help save about Rs 10,000 crore in the subsidy bill annually, said Finance Secretary Ashok Lavasa.
In addition, the government has saved Rs 14,872 crore by offering subsidy on cooking gas (LPG) directly to consumers and direct benefit transfer (DBT) is planned to be extended to 150 schemes by the end of this year, he told PTI here.
Direct benefit transfer or DBT makes use of Aadhaar or the unique identification number to identify beneficiaries, under which benefits are transferred directly to their bank accounts, thus preventing diversion and misuse. This has resulted in removal of duplicate beneficiaries, which has led to significant savings across welfare schemes.
"That (the total savings made from using DBT) estimate differs from scheme to scheme. We are yet to compile that. There are some indications about weeding out of bogus ration cards. So, more than 1.6 crore ration cards have been weeded out," said Mr Lavasa, who also holds the charge of the Department of Expenditure.
"And on this account alone, the estimation is about Rs 10,000 crore savings."
As of March 31, 2015, there were 11 crore households with public distribution system (PDS) ration cards.
Similarly, the DBT on LPG (PAHAL) has helped weed out Rs 3.5 crore duplications and bogus users, helping save Rs 14,982 crore in annual fuel subsidy.
"Same is the response in MNREGA, about 10 per cent savings have been reported in 2015-16 because of elimination of bogus job cards," he said.
Citing an example, the secretary said Haryana has informed the Centre that it has wiped out 6 lakh fake beneficiaries for kerosene.
The government intends to extend DBT to other schemes for better targeting and stamping out bogus users, thus checking diversion to non-intended beneficiaries, he said.
"The intention of the government is that by the end of this year, we have about 150 schemes which we want to cover under DBT. Till April this year, we have extended it to about 65-odd schemes. So, more than doubling," he said.
Nearly 31 crore beneficiaries, Mr Lavasa said, have been covered by DBT and more than Rs 1.9 crore disbursed to them directly under various schemes like MNREGA and PAHAL.
The DBT for kerosene was to be rolled out next with a pilot project to be soon launched in 33 districts, he said, adding that a similar test run for food and fertiliser is in the offing in select districts this year.
A national scholarship portal is being created that will integrate all scholarship schemes handled by different departments to make it more transparent and easy to administer.
"The intended beneficiaries will have access to all the data through our portal. It avoids duplication of work," he said, adding that pension payment would be integrated too.
According to Mr Lavasa, DBT is a way of rationalisation, systematising and computerising schemes. "Once you start systematising things, these are the unintended benefits and these benefits are there for everybody," he added.
Story first published on: June 26, 2016 12:32 (IST)
["source-ndtv"]